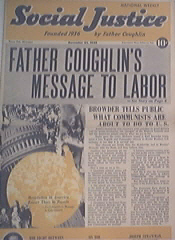 Social Justice, Father Coughlin, 11/27/1939
National Weekly Social Justice Founded 1936 by Father Coughlin (Natouris Isolationist and Anti-semte) 11/27/1939
Articles Include:
Father Coughlin's Message To Labor
Browder tells Public What Communists Are About To Do To U.S.
The Fight Between Imperialisms by Dr. J.S. Barnes
On The Red Front: W.P.A. and Radio
Joseph Strawman. Manufacture by Frank Conley
Christian Nations Stiffen Against Moscow's Marauders
The Agonies Of India
Radio Code Id Threat Against Free Speech
British Propagandists Train Guns On U.S.
Isn't This Revolution? (back inside cover illustration of Hitler, Stalin and more PIC seen below)

and more articles, photos and illustrations. Overall Very Good Condition! 18 pages.
Item # : 122689
Box # : 6638
Shipping From: Pittsburgh, PA 15219
Shipping Policy: See item description
Payments Accepted via: See Item Description