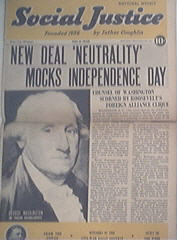 Social Justice, Father Coughlin,7/3/1939
Social Justice, national weekly founded by Father Coughlin (notorious isolationist and anti-semite) 7/3/1939 issue
Articles Include:
New Deal 'Neutrality' Mocks Independence Day- Counsel Of Washington Scorned By Roosevelt's Foreign Alliance Clique
Winners In The Anti-War Essay Contest
Comminunism in Wisconsin Shown in Report to Dies Investigator
U.S. Entry in World War Cost 1-Million Lives, Says Churchill
Trade Deal Talk Between Hitler and Stalin Points Toward Alliance
France Relents on Blackmail Pan; Franco to Recover Spanish Gold
'Steps Short of War' Are What Put United States in World War
Communists Order Drive For Roosevelt Election-Moscow Reds Command Workers In U.S. Push Quest For Third Term-(Back cover articles/photo of Earl Browder PIC seen Below)

and more articles, photos, illustrations and ads of the time! Overall Very Good Condition! 19 pages!
Item # : 122651
Box # : 6638
Shipping From: Pittsburgh, PA 15219
Shipping Policy: See item description
Payments Accepted via: See Item Description