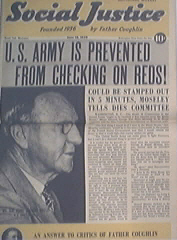 Social Justice, Father Coughlin,6/12/1939 Moseley
Social Justice, national weekly founded by Father Coughlin (notorious isolationist and anti-semite) 6/12/1939 issue
Articles Include:
U.S. Army Is Prevented From Checking On Reds!- Could Be Stamped Out In 5 Minutes, Moseley Tells Dies Committee (cover photo of Maj. Gen. George Van Morn Moseley U.S. Army)
Reds in Campaign to Take Over U.S. Merchant Marine Control
Jewish Medal Rewards Dot Thompson For Carrying On Anti-Nazi Crusade
The Reds Go To Town
U.A.W. Joins With A.F.L.
Nazi 'Persecution' of Church Spreading
Stalin Decrees Penalties as Lash to Farm Workers
Complete Text of Suppressed Statemant of Maj. Gen. Moseley
A New [Privileged Class' Rising In the Soviet Union
David Lawrence Has Some Strange Ideas
Writer Suggests 'Jew York' as a New National Homeland
U.S. Asks Program Of 'One-Term' Vandenberg (back cover photo of Arthur H. Vandenberg U.S. Senator from Michigan PIC seen below)

and more articles, photos, illustrations and ads of the time! Overall Very Good Condition! 19 pages!
Item # : 122650
Box # : 6638
Shipping From: Pittsburgh, PA 15219
Shipping Policy: See item description
Payments Accepted via: See Item Description