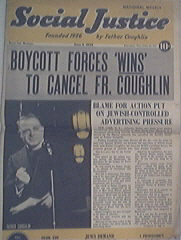 Social Justice, Father Coughlin,6/5/1939
Social Justice, national weekly founded by Father Coughlin (notorious isolationist and anti-semite) 6/5/1939 issue
Articles Include:
Boycott Forces "WINS" To Cancel Father Coughlin- Blame For Action Put On Jewish-Controlled Advertising Pressure (cover photo of Father Coughlin)
Jews Demand U.S. Close Mail To Father Coughlin
A Professor's Holiday Save Portugal
LaGuardia Revealed as War Plotter; Paved Way for Bela Kun's Uprising
Liberty 'in the Hands of Barbarians' Peril to Freedom: Salazar
Doctors' Association Denounces New Health Bill As Socialistic
Dr. Lazaron on Palestine
French More Concerned About France Than Europe's Troubles
Salazar of Portugal Builds Bulwark Against Paganism- College Professor Who Took Time Off' To Rescue A Nation- Dr. Antonio De Oliveria Salazar Premier of Portugal ( Back cover article/photo PIC seen below)

and more articles, photos, illustrations and ads of the time! Overall Very Good Condition! 19 pages!
Item # : 122649
Box # : 6638
Shipping From: Pittsburgh, PA 15219
Shipping Policy: See item description
Payments Accepted via: See Item Description