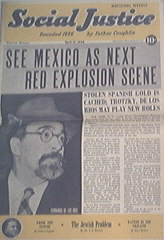 Social Justice, Father Coughlin,4/17/1939 F.De Los Rios
Social Justice, national weekly founded by Father Coughlin (notorious isolationist and anti-semite) 4/17/1939 issue
Articles Include:
See Mexico As Next Red Explosion Scene (Fernado De Los Rios cover photo)
Stolen Spamish Gold Is Catched; Trotzky, De Los Rios May Play New Roles
The Jewish Problem by Dr. J. S. Barnes
Easter In The Ukraine by Mary Richart
Shrine Dinner Chats by Father Coughlin
Soviet Russia and Germany Long Secret Military Allies
World Capitalism The Common Enemy
Gen. Moseley Indicts Jewish War-Makers
Poland Holds Key to War Threat in Europe
Japan Refuses Haven for Jews
Communists Gain Control of U.A.W. in Cleveland Meet;Plan Ford Drive
The Siren of War Calls, But youth Must Stand Fast!
Calls Father Coughlin's Attacks on Communism an "Insult to Hero Dead!"
World-Savers ponder on 'U.S.W.' Bomb-Loaded Ships Carry U.S. Flags

and more articles, photos, illustrations and ads of the time! Overall Very Good Condition! 19 pages!
Item # : 122646
Box # : 6638
Shipping From: Pittsburgh, PA 15219
Shipping Policy: See item description
Payments Accepted via: See Item Description