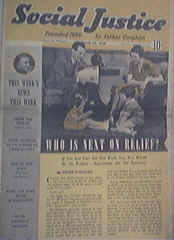 Social Justice, Father Coughlin,3/20/1939
Social Justice, national weekly founded by Father Coughlin (notorious isolationist and anti-semite) 3/20/1939 issue
Articles Include:
Who Is Next On Relief? by Peter O'Malley
Some Samples Of U.S.-American Propaganda
Red In The East (part 2) by Leon Hamilton
"Save America"Contest
War Alliance Seen In Neurality Clamor
Roosevelt Asks Free Hand In European Deals
President Roosevelt As "War Maker No.1"
Thoams Mann
'Comrade' Amlie Is Believed Loser in Senate-F.D.R. Fight
Accuse New Deal of Faking War Scare as Defense Report Is Made
Italy Hails Anniversary of Fascism
Ever Hear of Rev. Birkhead?
Modern Mexico Is Communistic by Hon. Tom Connally
and more articles, photos, illustrations and ads of the time! Overall Very Good Condition! 19 pages!
Item # : 122645
Box # : 6638
Shipping From: Pittsburgh, PA 15219
Shipping Policy: See item description
Payments Accepted via: See Item Description