Collectibles -> Paper -> Newspapers -> 1900-39
American Freeman- 11/36 A.F.Landon,Panama Canal!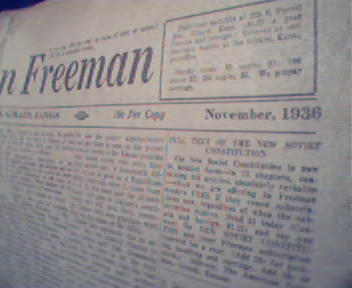 Contents in this Haldeman Julius Publication-James Munroes Religeous Beliefs, Hitler and Mussolinni, Movie "Things to Come" by H.G.Wells, Fastest Growing Business in US?, Gov. A.F. Landon on Pittsburg Techne College, Hollywood's Child Stars, Panama Canal, Night Baseball Has Bigger Crowds?, What are Number of Divorces in US, Some Wear and discoloring of pages that are also brittle and some creasing down middle of all pages,pages very fragile,some cracks and tears to top edges and center of page, Overall Good Condition!
Item # : 120777 Box # : 4662
Shipping From: Pittsburgh, PA 15219
Shipping Policy: See item description
Payments Accepted via: See Item Description