Collectibles -> Paper -> Newspapers -> 1900-39
Labor Tribune-10/30/37 Indian Songs on Records,More!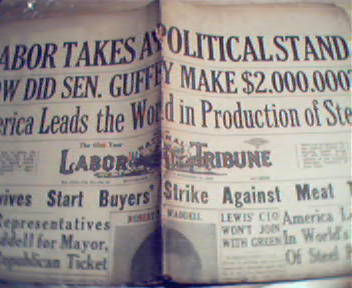 Communist Party Paper! Contents Include; Housewives Start Buyers Strike Against Meat Trust, Labor Reps Back Waddell For Mayor Endorse Republican Ticket, Lewis CIO won't Join With Green,
America Leading World in Output of Steel Products, Brass Rail Lockout as The Dispute is Set Forth By Workers, Guffey in Job Three Years Worth $2 Millon Asked to Restore Money to Victims, High Class Men Candidates for Office, Elect Senator Thompson Judge He's a Friend of the Miners and Labor, Nacey was Right In Protesting,
Daughter of Duke of Brunswick to Wed Greek Prince, Provide Zoo Giraffes in Maternity Ward,
American Indian Songs Being Put on Records, Also Has Great Cartoons from the time, Some wear, discoloring of pages that are also brittle and some creasing down middle of all pages, tear along creases,pages very fragile, Overall Good Condition!
Item # : 120716 Box # : 4662
Shipping From: Pittsburgh, PA 15219
Shipping Policy: See item description
Payments Accepted via: See Item Description